The Ground Cries Out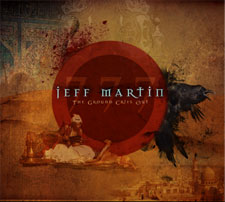 Release date:
1. March 2011
Label:
Riverland Records through EMI Music Canada
Produced by:
Jeff Martin
Format: CD/MP3 download
| | | | |
| --- | --- | --- | --- |
| 1 | Ground Cries out | You have to activate Javascript and install flash, to hear this demo | show |
Alone and awakened
You're searching for sound
It's there for the taking
the ground cries out
No reason to suffer
the transmission's clear
It's yours to discover
the ground cries out
Like blood from a flower
Your tears tell a tale
You see from the tower
The ground cries out
'n shallah
Come with me now and you'll see
Within, without
The ground cries out
And under it's influence
You scatter the stars
They shine high above you
Embracing your soul from afar
'n shallah
Come with me now and you'll see
Within, without
The ground cries out
| | | | |
| --- | --- | --- | --- |
| 2 | Queens Of Spades | You have to activate Javascript and install flash, to hear this demo | show |
Hey Momma
Is it fate?
That my soul is slowly sinking through the ninth gate?
With a gold, guilded man
Who says "listen boy"
You need to understand
It's alright
Babe it's all night
Ain't no need for reservation
There's a girl
Whose name is Zora Neale
She can save you from the Preacher and his false deal
Place her hands
On your head
If she moves you, you'll be dancing with the dead
It's alright
Babe it's all night
Ain't no need for reservation
It's all night
Babe it's alright
There ain't no need for hesitation
She laid me down
The Queen of Spades
And she moved me from the cradle to the grave
Be you rich
Or be or poor
There's an angel, and she opens up the door
It's alright
Babe it's all night
Ain't no need for reservation
It's all night
Babe it's alright
There ain't no need for hesitation
It's alright
| | | | |
| --- | --- | --- | --- |
| 3 | She's Leaving | You have to activate Javascript and install flash, to hear this demo | show |
Baby says she's leaving 'coz she cannot take the deep despair
Of wandering thru a wilderness without her lover anywhere
She's leaving
She's going home
She's leaving
I've been gone too long
Helpless, hoping, waiting, wanting
Wishing for the sun to rise
Will he come back
Will he be the one
To dry those tears she cries
She's leaving
She's going homne
She's leaving
I've been gone too long
Come back to me girl
I won't hurt you anymore
Come back to me baby
I won't hurt you anymore
I'll put my arms around you
It won't hurt, it won't hurt
Feel the love that surrounds you
Come back, please come back
| | | | |
| --- | --- | --- | --- |
| 4 | The Cobra | You have to activate Javascript and install flash, to hear this demo | show |
Now that the party's over
And everyone's gone to bed
I'll be the one you don't want
Speaking inside your head
So wait for me in the garden
Wait for my longing call
I'll be that silver serpent
Waiting behind the wall
I am the light that shines, love
Been known by a thousand names
The chaos behind all things when
Everything seems the same
I am the blackness, darling
As deep as the darkest sea
I am the cobra dancing
Come here and be with me
Deep in the secret garden
I'll tell you a vedic tale
Just bring me a flower and I'll
Take you beyond the veil
And I'll move so slow
I'll move so slow
I want you, I want you, I want you
I am the blackness, darling
As deep as the darkest seed
I am the cobra dancing
Come here and be with me
I'll move so slow
I'll move so slow
I'll move so slow
| | | | |
| --- | --- | --- | --- |
| 5 | 1916 | You have to activate Javascript and install flash, to hear this demo | show |
I'd give it all away, all today, if she takes me back
I'd give it half a chance, and maybe some romance, if she takes me back
'Cause they tried to say, I lost my way, would you take me back?
'Cause it's all I do, it's all for you, if you take me back
Oh you pretty thing, you don't know, child
Oh you, you tiny little pretty thing, you don't know, child
Oh, babe, you don't know now
So take a walk into the sun, and tell me how it's done, and then I swear I'll testify.
'Cause if the devil is the truth, and, darling, I'm the proof, there ain't no need to compromise
You dig it
Oh you, you tiny little pretty thing, you don't know, child
Oh, babe, you don't know now
I'd give it all away, all today, if you take me back
I'd give it half a chance, and maybe some romance, if you take me back
'Cause they tried to say, I lost my way, will you take me back?
'Cause it's all I do, babe, it's all for you, if you take me back
Oh you, pretty thing, you don't know now
Oh you, you tiny little pretty thing, you don't know, child
Oh babe, you don't know now, now, now, now, now
| | | | |
| --- | --- | --- | --- |
| 6 | The Mekong | You have to activate Javascript and install flash, to hear this demo | show |
| | | | |
| --- | --- | --- | --- |
| 7 | One Star In Sight | You have to activate Javascript and install flash, to hear this demo | show |
Lost between
Your heart and mine
Slowly descending
Towards a time when
It passes over us
With one star in sight
And it's shining down
You call those angels
Hear their voices
'Cause after all
There's only us
Slowly transcending
Towards a trust
It passes over us
With one star in sight
And it's shining down
You call those angels
Hear their voices
Find the beauty
Some way
One star in sight
Shining down on you
One star in sight
One star in sight
And if it's true, babe
What would you do, baby
Bathe in the starlight
Bathe in the starlight
Shining down on you
Shining down on you
Call those angels
Hear their voices
Find the beauty
Some way
One star in sight
One star in sight
Shining down on you
One star in sight
Tonight
| | | | |
| --- | --- | --- | --- |
| 8 | Blue Mountain Sun | You have to activate Javascript and install flash, to hear this demo | show |
| | | | |
| --- | --- | --- | --- |
| 9 | Santeria | You have to activate Javascript and install flash, to hear this demo | show |
I will help to set you free
If you trust the djab in me
I'll resurrect your ti-bon-ange
If it make's a break up between us
It's only just because
Lave tet
Poto mitan
Ay la hey
Poto mitan
Aida-Wedo feeds your lust
As the embers turn to dust
Soon you'll see it comes in threes
I think it's time to finally toss the coin, babe
And what will be will be
Lave tet
Poto mitan
Ay la hey
Poto mitan
What to do, oh baby, what to do now
We should talk about it
All you had is gone
All you ever really had, baby
All you ever really had, child
Baby, now it's gone
Do you trust the djab in me?
I think it's time to finally toss the coin, babe
And what will be will be
Lave tet
Poto mitan
Ay la hey
Poto mitan
What to do, oh baby, what to do now
We should talk about it
All you had is gone
All you ever really had, baby
All you ever really had, child
Baby, now it's gone
Baby, now it's gone
Baby, now it's gone
We should talk about it
Talk about it
Santeria
Santeria
Santeria
Talk about it
Santeria
Santeria
Santeria definitions:
Djab (little devil) – powerful but wild spirit; may have both good and bad potential
Ti-bon-ange (little good angel) – this is similar to the conscience, in the Western understanding of people. Part of the soul of an individual. Upon the death of the individual the ti-bon-ange rejoins the cosmic forces and can be reused.
Lave tet (washing of the head) An initiation ceremony held for serviteurs after they have been possessed (by Loa or spirit) for the first time.
Poto mitan – Sacred center post, in a voodoo ceremony, by which the lwa (spirits of vodoo) are said to arrive from Ginea (unspoiled Africa, and place of the "holy city" of Ife). It represents the center of the universe, and an access to the spirit world. All dancing revolves around the poto mitan.
Aida Wedo
One of the revered Serpent-Deities. Aida-Wedo (and Her husband Damballah) belong to the Rada Lwa, or spirits who come out of the rites of the old kingdom of Dahomey.
She represents continuity and strength, integration and wholeness, as the rainbow contains all the colors, split from white light. Integrity, whether physical (structural), or moral, is the natural result of integration–weaving together elements that are very different. Her message is one of healing and strength for the whole of the world.
| | | | |
| --- | --- | --- | --- |
| 10 | Riverland Rambler | You have to activate Javascript and install flash, to hear this demo | show |
You take a walk by the shore
And I'm sure you'll see
That there's a preacher man
And all his servantry
He's got a bible in his hand
A line up in the sand
But I know the Riverland Rambler
And he's cool, he lives with a dancer
Well ain't it funny how the man has got the answers
Yeah
He's so cool, that Riverland Rambler
Well, if your faith's gone south
Why you asking me?
Why that flock don't fly
See those birds ain't free
With their bibles in their hand
See them stumble in the sand
But I know the Riverland Rambler
And he's cool, he lives with a dancer
Ain't it funny how the man has got the answers
Yeah

He's so cool, that Riverland Rambler, Rambler, ramble on
So why'd you take so long, baby, tell me
What are you running from, girl
You should come home, come home.
Home, home, home
You take a walk by the shore
And I'm sure you'll see
That there's a preacher man
And all his servantry
With their bibles in their hand
See them stumble in the sand
But I know the Riverland Rambler
And he's cool, he lives with a dancer
Ain't it funny how the man has got the answers
And he's cool, he lives with a dancer, a dancer, a dancer, a dancer
I see her dancing by the riverside now
I see her dancing by the riverside now, baby
I see her dancing, I see her dancing
| | | | |
| --- | --- | --- | --- |
| 11 | Pyre | You have to activate Javascript and install flash, to hear this demo | show |
They're taking her away
My lover bound in chains
I see the fire, the flames are getting higher
I hear her call my name
And she burns
She burns
It's such an old disease
The wanderlust, the hate
I see the pyre, the flames are getting higher
I hear her call my name
And she burns
And she burns now
And as the fire rages higher
I hear her voice cry out
And as they walk away
I'll take it up with god
I see the souls, they're heartless and they're cold so
Ah he should burn the lot
We'll take turns
And they'll learn now
And as the fire rages higher
I hear her voice cry out
Why do they hate me?
Someone save me
I hear her voice cry out
Out, I hear her voice cry out
I hear her voice cry
And as the fire rages higher
I hear her voice cry out
Why do they hate me?
Someone save me
I hear her voice cry out
And she burns now